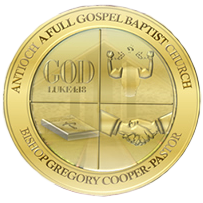 Thank you for visiting us at Antioch, A Full Gospel Baptist Church, where Bishop Gregory Cooper Sr. serves as our Pastor and Regional Bishop for Southern Region of Antioch Full Gospel B. C. and serves as Apostle of Morning Star Full Gospel B. C.
Our mission is to see man delivered from bondage through the preaching and teaching of the Gospel and brought into fellowship with God first and then his fellowman. A Luke 4:18 anointing has been placed on the life of our Pastor.
If you are in the Baton Rouge, Louisiana area, we would love for you to come and fellowship with us. Antioch is a place where you will feel at home! The service times are listed below. You can click here for directions.
Please feel free to visit with us at any time and experience God's fullness. Contact us with any questions, comments, or concerns. We speak increase, overflow, and favor into your life!